According to a statement of one of China's prominent space scientists, after the huge success of landing its spacecraft on the far side of the moon, the Chinese space agency is now planning to launch a mission to Mars in 2020. The statement came ahead of the meeting of the Chinese People's Political Consultative Conference that included an advisory group of government representatives.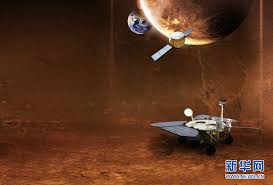 The chief designer of China's lunar exploration program, Wu Weiren stated that in the last 60 years, China has made many achievements, but they have to increase their pace to match the world space powers. After Russia and the United States, China will become the third capable nation to do such a task. He added that in the year 2020, China will launch a probe to the Red Planet, which will probe on planet's surface and orbit around it.
In 1970, the country has launched its first ever satellite which came after the United States and Russia, but China has speedily started to catch up in its space capabilities. Chang'e 1, China's first lunar orbiter was launched in the year 2007, and recently, the country has launched and landed its Chang'e 4 lander and rover successfully onto the far side of the Moon. This year the country has slated the launch of its Chang'e 5 lunar sample return mission. China's mission to the Red Planet would join a host of European Space Agency and NASA missions that are presently exploring or slated to visit Mars. According to Xinhua, before 2030, the Chinese space agency is preparing for various deep-space missions which include a one to Jupiter. This mission is not the country's first effort at reaching the Red Planet. The China National Space Administration had attempted to send Yinghuo-1 to Mars in 2011, but the craft, linked to Russia's Phobos-Grunt mission has been unsuccessful to escape the Earth's orbit.