Apart from washing hands and maintaining social distance, COVID has taught us many other things that were not in the limelight earlier. People have started using smartphones for most of their daily work, such as bill payment, buying groceries, ordering food, banking transactions, and much more.
Besides, to survive during this difficult time, businesses have adopted a digital approach. During the outbreak, eCommerce and online delivery business booming because it allows people to get anything at their doorstep and keeps them safe. In addition to that, businesses also find this idea interesting as they can earn additional income by serving people at their homes.
In order to prevent virus spread and direct touch with customers, norms like "contactless delivery" and "contactless payment" have come into existence. Credit goes to modern technology solutions that have made it possible for businesses to accept contactless payments by having users simply enter the pin to make a payment.
Isn't it fascinating? Indeed. Moreover, it also ensures quick, secure, and accurate payment between business owners and customers.
How Outbreak Paved the Way for Digital Payments
The pandemic has not only affected people's lives but also affected the way people interact with money. To minimize the chance of getting infected by a virus, consumers opt for digital payment options such as a link-based payment system or through a card.
According to MarketWatch's research, the global digital payment market is estimated to grow a CAGR of 14.1% during the projected period (2018-2023).
As cornerstone digitization for economic development, contactless payments have promoted security and efficiency in the transactions. Moreover, it offers specific benefits to businesses also such as
Decrease cost
Promote transparency
Saves time
Streamlined payment system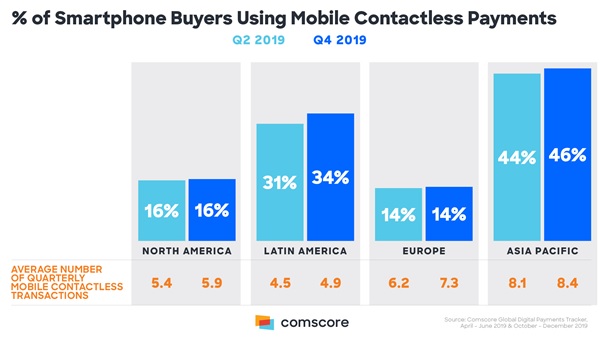 Here you can see the frequency of mobile payment across the globe and the adoption rate is highest in the Asia Pacific and Latin America. Now coming to our main question. We all know that the online delivery business is growing as, without physical touch, customers can buy and get things online. If you are new to the online delivery business or already engaged with it, you should now offer customers maximum payment options to build brand advocacy. (source)
Besides restaurants and retailers offering contactless payment options to customers, cafes, pizzerias, and bakery shops offer multiple digital payment options to their customers. And this is not only limited to the online delivery business but brands like Pizza Hut, Domino's, etc., have integrated QR scan code systems in their digital kiosk.
As it promotes safety and security, many food business owners want to integrate as much as digital payment options in their pizza delivery system because it allows customers to pay without fear of being affected.
If you are running an online delivery business and not offering contactless payment options to customers, you may not enjoy the below benefits mentioned.
Swift and Simple
Now imagine this scene:
You have ordered food online from a nearby restaurant. The delivery provider arrives with the parcel, standing at your door, and you don't have enough exchange for making payment. Imagine how horrible it would be? Here digital payment comes to the rescue.
Whether you are buying food or groceries, you no longer need to carry huge cash with you. Making online payments is quick and secure in comparison to using cash. You can make payment within seconds, and there is no need to carry a lot of exchange around. You also no need to enter card details each time; enter once and often pay without any limits.
If you offer this level of convenience to customers, will they go anywhere else? Obviously, No. contactless payment accelerates your business sales and generates leads because modern customers seek a quick solution to everything and expect the same thing from the seller.
Less Spread of Virus
In the current unhealthy and socially distancing environment, limiting direct touch or physical contact to prevent the spread of the virus is of utmost importance.
By leveraging a contactless payment method for your delivery business, you don't have to handle transactions manually or with your hands. It keeps you, your delivery provider, and your customer safe and prevents germs from spreading during transactions. In comparison to cash transactions, contactless payments are secure and offer a great level of protection for your delivery business.
In order to promote safety, many food delivery companies such as Zomato, GrubHub, Swiggy, UberEats, etc., have started offering contactless payment services as it keeps both parties safe and allows customers to order food without any hesitation.
Ease of Use
Ease of use and convenience are two major factors that have given a push to the online delivery business. It is no longer hidden that digital processes, digital solutions, and digital payments are seamless and highly convenient. This is why GenZ prefers to make payments through digital options.
However, older generation people who were earlier apprehensive towards online payments have also found QR code and e-wallet methods super easy. Thanks to an outbreak that has promoted the cashless concepts across the globe.
Better Customer Experience
As mentioned earlier, most customers prefer online ordering because it accomplishes tasks or operations in the least possible time. Due to a fast-paced lifestyle, customers also want to finish their transactions in minimal time, so the more comfortable experience you offer, the happier customers become. (source)
Contactless payment continues to grow because it allows customers to purchase goods quickly. Moreover, they can avail several discounts and offerings. Now, who doesn't like to get attractive rewards in advance for their next purchase? Are we all right?
Furthermore, it prevents errors and fraud during the transactions so customers won't feel fear regarding data leaks or security. This will increase customer satisfaction and leads to more sales in the long-run.
Will Contactless Payment Continue in 2021?
Looking at the current scenario, cash is in decline, and contactless payments are rapidly taking over the market. Taking your business online is mandatory these days because customers prefer doorstep delivery rather than visiting stores. They also expect to be able to use safe and secure payment systems for the smooth checkout process.
Modern businesses have realized the importance of offering contactless payment to their customers as it helps them reclaim lost business and capture attractive ROI.
Author Bio
Brijesh Vadukiya
I am Brijesh, a tech activist and avid blogger. My major concern is to educate people who are interested in technology. I am passionate about helping people in all aspects of SaaS solutions, online delivery business, digital marketing and other related topics that make tomorrow's world better. I am fond of writing useful and informative content that helps brands to grow business.