General Motors is closing its Lordstown, Ohio based assembly plant which has been active since last 52 years.This plant has cranked nearly 16 million fresh vehicles. The last vehicle (Chevy Cruze) rolled out on Wednesday at 2pm, and went to Florida based dealers plant, with thousands of its employees to start a new life with new jobs. This time GM has played smartly and has not followed the decade-old mistake which drawn the company into bankruptcy. That time GM waited longer to shut plants and cut production at that time. Because of the deviated interest of US people towards SUV segment, Mary Barra (CEO, General Motors) is making required changes and shutting down work Canada and USA's 5 plants, removing 14000 jobs, Lordstown was the first in the list. The plant was assembling Cruze Sedan, which is no longer in demand.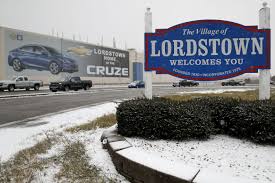 Jeff Schuster (Analyst, LMC Automotive) commented that shutdown and said that Barra is doing, what is beneficial for GM. The analyst tracks the rates of capacities utilization of automakers, a ration between the potential productivity versus real productivity. Plants like Lordstown, who works for 8 hours only, remains unused for the next 16 hours, unused time costs company very much if stay idle for a long time. The decision of closing these plants is very much fair and is in the benefit of GM, added Schuster. CNBC tried to get a comment over its high space capacity in North America.
According to LMC Automotive, 2018 was the worst in terms of capacity utilization for GM, like 73%, adding to the same Ford were producing 82% of capacity and Fiat Chrysler was at 90%. Honda and Toyota remained at 91% and 93% respectively. Schuster has stated that in the next 7 years, i.e. by 2026 GM's capacity utilization will reach the mark of 86% in North America. Company's focus on its boosting profit has convinced Wall Street that Barra is doing right. However, the shutdown will affect the employment rate in Ohio, as around 1300 employees will be signed off from Lordstown plant, among which nearly 417 will be transferred to other plants and rest will be retired or will be removed.