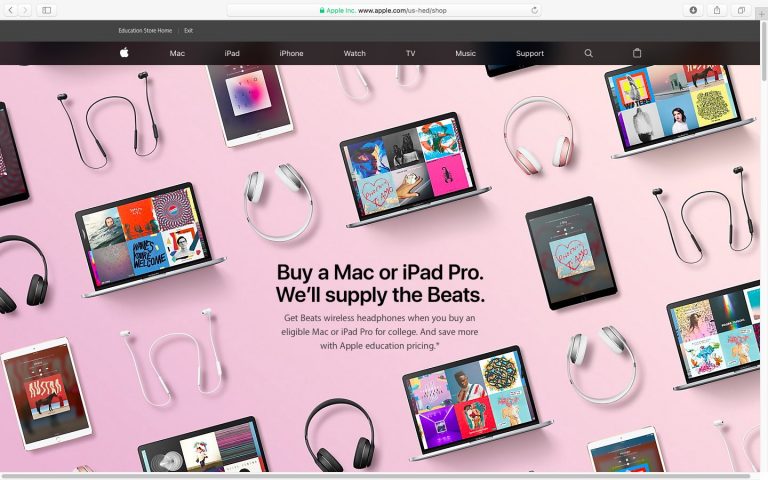 Apple recently announced that its "Back to School Promotion" is now active. The company asserted that the offer will be valid up to September 25, 2018. According to the recent offer, students buying new Macs and iPad Pros will be given Beats headphones for free.
As offered in the past years, this offer is valid for all college students. However, college as well as K-12 schools faculties are also fit to avail this offer. The customer can select to buy from a range of products, such as MacBook, iMac, Mac Pro, iMac Pro, MacBook Pro, or MacBook Air, to avail this offer and get a set of Beats Solo 3 Wireless headphones, Powerbeats 3, or Beats X for free.
However, the buyers of iPad Pro have limitations of range to choose from. They will have to choose from either Beats X or Powerbeats 3 headphones. The company has given this addition offer along with the regular education concessions for the eligible consumers through its education storefront. Apple is also offering students with a 20% discount on an extended AppleCare warranty.
On a related note, Apple recently announced the latest unique investment fund in China. This fund is intended to connect the suppliers with renewable energy sources. Earlier, Apple had committed to deal with the issues related to the climate change. The funds will also focus on increasing the use of renewable energy within its supply chain.
Initially, the company has included 10 suppliers. In cooperation these suppliers, the company will invest nearly $300 Million over the next 4 Years into the "China Clean Energy Fund". This fund will develop and empower the clean energy projects in China. These projects are expected to provide a total of more than 1 Gigawatt of renewable energy in China that can be used to power nearly 1 Million homes.