A Filipino blood painter is now painting the images of President Rodrigo Duterte using his own blood and sweat. Meet Elito Circa, aka Amang Pintor, who has no formal training in painting but has already painted around 600 works of arts since 1980, using hair, and his own blood and sweat. This year, his chosen subject is the president of the Philippines.
"Bilib talaga ako sa kanya (Duterte). Minsan negatibo siyang magsalita pero parang kaibigan lang 'yan na naiintindihan mo kahit iba pa ang pananalita niya. Marami na siyang nagawa." Elito Circa said, who also has painted Pambansang Kamao, Senator Manny Pacquiao in 2015 using his own blood, and titled it "Manny Pacquiao Hearted Fist."
[I really admire him (Duterte). Sometimes speaks in a negative way, but he is just like a friend that you can understand despite his different way of speaking. He already has a lot of accomplishments]
"I asked a nurse to extract my blood and place it in test tubes so I could use it to paint. I had to paint fast and keep the blood-filled vials in a refrigerator as the blood will spoil in a matter of days," He added, explaining how he uses his own blood as medium for his paintings. Circa once said, "Blood is life and love, love with sacrifice.".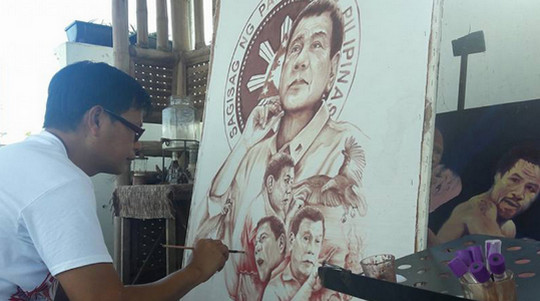 Born in Pantabangan, Nueva Ecija on January 28, 1970, Circa graduated at the Central Luzon State University with a degree in Elementary Education. He started drawing on the walls of their house using charcoals when he was only six years old. Apparently, he never sell his works and just give them away to his friends and to the person subject of his art.
As a painter, Elito Circa was recognized in 2009 by the National Commission for Culture and the Arts (NCCA) as first Filipino hair and blood painter. He also received Art and Culture "Gintong Butil" award from CLSU Alumni Association, Inc. in 2010. As of posting, President Duterte has not yet seen his masterpiece of him, but he will surely appreciate it.