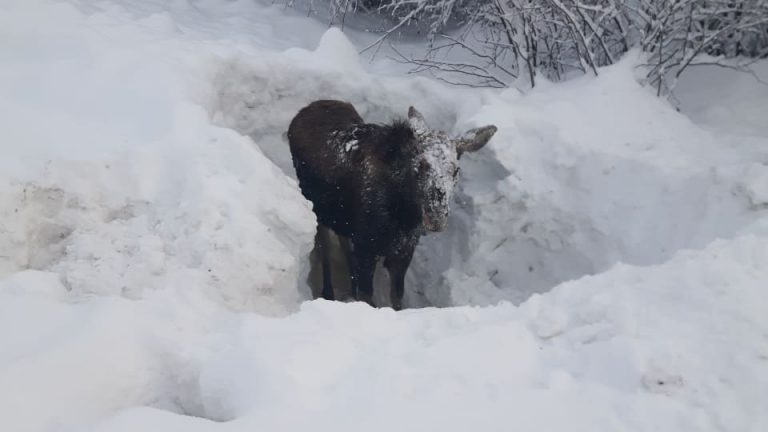 A British-Columbian trucker saved a moose baby buried in the snow last week while on the road in the northern part of the province during his shift.
"I saw something weird coming out of the snow. I was not sure what it was. "
What was not the surprise of Wayne Rowley in becoming aware that what he saw exceed a snow bank, it was actually the legs of a young moose unable to emerge.
he man was on a forest road near Vanderhoof, in the north of the province, where heavy snow had made it difficult for moose in the area.
He explains that he did not believe at the time that the moose was still alive. When he approached, the animal turned in his direction.
"He was watching me without moving," he recalls.
The trucker grabbed a shovel to clear the moose. He also took some precautions. He explains that he has created a barrier to prevent the moose from being able to hit him.
With the help of another driver, he put a rope around the animal to straighten it on its legs.
"Once released, the moose gave me a funny look and then left," says the trucker.
A diminishing species
Roy Rea, a professor in the Ecosystem Science and Management Program at the University of Northern British Columbia, says the moose population is dropping dramatically in the province.
It is important to take steps to help animals where possible, he says.
Winter can be particularly difficult for moose, which have more difficulty moving in powdery snow, according to the expert.
Eight moose have died on the roads of the province last week alone, notes Wayne Rowley. They were hit by cars trying to cross highways to avoid snow-covered roads.
Authorities are asking motorists to slow down and pay close attention to animals on the roads.