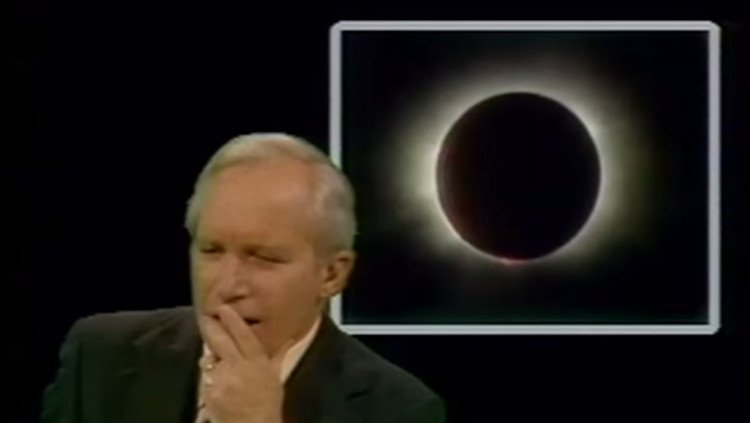 The event has been nicknamed "The Great American Eclipse". On Monday, August 21, 2017, the United States will be able to admire the first total solar eclipse in 38 years (except the one visible from Hawaii in 1991). At least twelve million Americans will live for a few moments in the shadow that will cross the country diagonally from north-west to south-east. The expectation is passionate and the rejoicings scheduled on this occasion, many.
In 1979, Mondays eclipse already fueled dreams. Like the crazy one of this journalist with ABC . Presenting a report on the last total solar eclipse of the 20th century on the American continent, 26 February 1979, the news anchor had a dream of the next solar eclipse falling on a world full of "peace."
As attacks around the world multiply and a part of the Middle East is in ruins , the United States seems irreconcilable and there are several serious threats to world peace. Not sure that Frank Reynolds , who died in 1983, imagined all this while wishing American viewers "that the shadow of the moon falls on a world in peace" 38 years later, as you can see in our video above .
"So that's it, the last solar eclipse to be seen on this continent in this century," Reynolds concluded. "As I said, not until August 21, 2017, will another eclipse be visible from North America. That's 38 years from now. May the shadow of the moon fall on a world at peace."
On Monday, August 21, the total solar eclipse will be visible on a trajectory of 113 kilometers of width passing from one coast to the other of the country. That such a phenomenon crosses the whole country is quite rare: the last time it was in 1918.
The Moon will slip between the Earth and the Sun, then aligned, blocking the rays. It will completely mask the Sun (unlike a normal solar eclipse) and the sky will darken in the middle of the day.