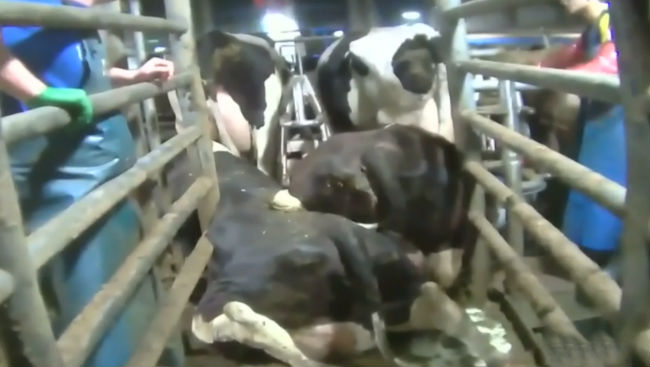 CHILLIWACK, B.C. – British Columbia's provincial court says three dairy farm workers from the Fraser Valley have been sentenced to jail for causing distress to an animal after an undercover video showed several employees abusing milk cows.
The Chilliwack provincial court registry confirmed Jamie Visser and Chris Vandyke were given 60 days each in jail, while Travis Keefer must spend seven days in jail after they pleaded guilty to animal cruelty charges.
Visser and Vandyke are also prohibited from having animals in their custody for three years and must serve six months' probation.
The dairy farm company and its owner were fined $75,000 each after pleading guilty last year to causing an animal to continue to be in distress.
The owners of the company apologized for what took place in the spring of 2014.
The hidden-camera video played in court showed a cow being lifted by a chain around its neck using a tractor and other employees repeatedly beating and kicking cows, while others nearby cheered and laughed.
Charges in the case were laid after an investigation by the British Columbia Society for the Prevention of Cruelty to Animals.
Marcie Moriarity of the SPCA says she believes it's the first time in Canada where a company has been held responsible for the acts of cruelty by its employees on a farm.
"We rarely see convictions involving farm animal cases in the context of animal cruelty. This is absolutely precedent setting."
She said the convictions show the courts, investigating agencies and the farming industry take such allegations seriously.
"We worked hand-in-hand when this first occurred with the B.C. dairy industry, milk marketing board and the Ministry of Agriculture to see those lasting changes in legislation.
"That was a huge feat for all those parties to come together with the goal of preventing animal cruelty."
The farm, Chilliwack Cattle Sales Ltd., is one of the largest farms of its kind in Canada with 2,800 cows.
Moriarity says the role of the animal rights group Mercy For Animals in recording the undercover video was essential in the case.
She says she would like to see video used on farms to audit their activities.
"Accountability is absolutely necessary and I think that is a message that came out of this case."
Note to readers: This is a corrected story. A previous version said the charges were laid by the British Columbia Society for the Prevention of Cruelty to Animals.